Free And Important WordPress Plugins
Yoast SEO
Yoast SEO is one of the most popular SEO WordPress plugin.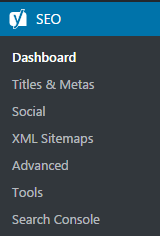 There are many other factors related to SEO
Title & Meta descriptions
XML Sitemap
Search Console
Social profiles

HTML Page Sitemap
These plugins will help to generate the HTML sitemap of a website,

Master Slider
Master slider will help to customize a collection of video to display in a single window.

Redirection
Redirection plugin is very easy to redirect the old URL to new URL.


TinyMCE Advanced
Enables advanced features and plugins in TinyMCE, the visual editor in WordPress.


W3 Total Cache
W3 Total Cache plugin help to improve the speed and user experience of your site.


Easy FancyBox
Overlay appearance and behavior controlled by Fancy Box plugin.


Fuse Social Floating Sidebar
This Fuse Social Floating Sidebar plugin help you to put social icons which can be linked to your social media profiles.