Facebook Makes It Easy For Pages To Go Live From A Desktop
You no longer should be on a smartphone or tablet to go live on Facebook, (or a convoluted setup through the Live API). Beginning today, Pages can go live ideal from the Web.
To be clear, this lone applies to Pages, not each day Facebook clients. Still, it ought to profit organizations and unmistakable Facebook clients who would prefer not to go to the inconvenience or have the ability to go live Facebook's API on a desktop or portable PC.
This ought to mean higher quality live recordings, as more clients and brands move far from taping on their telephones and towards recording with expert hardware. The majority of clients will keep on using their cell phones, obviously, yet it helps Facebook live to feel more like an honest to goodness video stage than a ridiculous thing you do in your spare time.
The upgrade is a piece of a push to make Live and all the more effective tool for a publisher. In a similar vein, Facebook is likewise reporting it will permit you to set up Live "Benefactors" so you pages effectively relegate colleagues to go Live without giving them the full control of an Admin.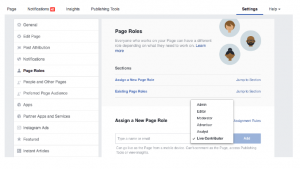 That will instantly be helpful to journalists, will's identity ready to run live with separating stories without setting administrator rights. To set it up, you essentially need to open up your Page's settings and set up a name or email as a Live giver under the 'Page Roles' segment. Patrons then basically need to tap on the 'Go Live' catch on the Page they work with. Read more feature here.
More features in today's update:
Facebook is also providing more metrics for video performance – live or regular – including total number of views, total engagement and total minutes viewed (comments, shares, and reactions).

Pages will now have the capacity to pin live remarks to the base of a broadcast, should somebody say something especially intriguing. It could likewise be helpful amid Q&A sessions, to tell viewers which question is right now being replied.

Pages at long last have a permalink for their recordings at 'facebook.com/'pagename'/recordings.' Ongoing live recordings will be pinned to the top, making it a speedy and simple approach to direct clients towards you page during a broadcast, and to tell repeating guests where to go
Check out the 'Facebook Journalism Project'